The beautiful State Library of New South Wales is located just a short 15-minute walk away from Kent Institute. The State Library is one of the most beautiful libraries to study and research within with glass walls and windows, filling the library with natural light.
On Wednesday 21st March, a group of students from Kent Institute attended the State Library of NSW in Macquarie Street. The students were given a seminar on keyword searching of the business & IT databases by the librarian at the State Library.
On the State Library of NSW website, you can click on e-resources to start searching for journal articles for assignments; using one of the many business and IT databases available online. You can also click on e-books to search and view e-books online.
To access these online resources for study and research, you must apply for a Library Card, which will be posted to you, or you can pick it up from the information desk downstairs; just as the students who attended the recent visit to the State Library of NSW did.
The students also had a behind-the-scenes tour of the State Library's underground book collections. They were taken in a lift that went below the ground several floors to the musty stacks of books below. There was a strong smell of old books in the air, thousands and thousands of them; the State Library has more than 6 million books!
The students then toured the Mitchell Library, which is connected by a museum walkway, featuring Captain Cook's telescope and sword, old cameras and various other exhibits from current exhibitions.
There are many places for students to study in the Library, which is open 7 days per week. Students can sit in the Bashir Reading Room with colourful desks and natural lighting where you are allowed to bring food and water, and use the free Wi-Fi. Or you can sit in the large and more historical Mitchell Library. This library reminds me of a church or a museum, it is worth visiting and spending some time.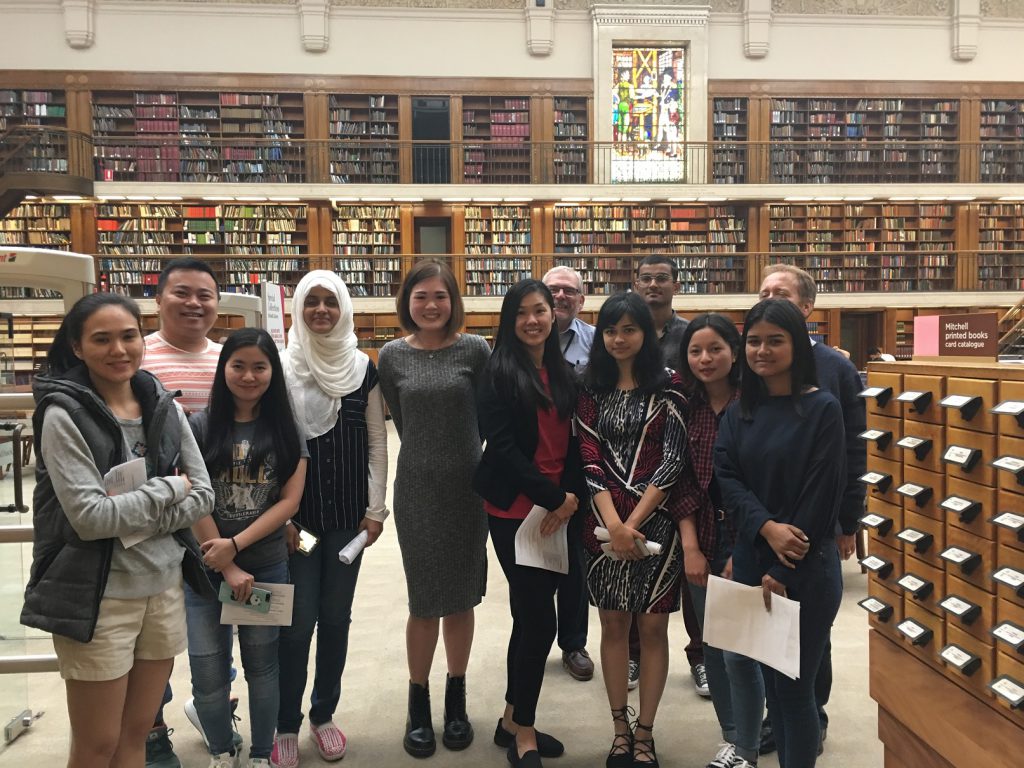 Rajiv Pantha, Kamana Neupane, Anju Karki, Wei Sze Lim (Jessy), Rifah Jahan, Pooi Mei Lai, John Ronald Victorino and friends visit the State Library of NSW.
If you become hungry while you are studying, there are many options available to you: you can take your own food or drink provided you consume it within the Bashir Reading Room; there are also vending machines downstairs, or you can visit the café upstairs.
Many other facilities are available for students for study within the State Library. Students can book large study rooms online or find a quiet table for themselves within the many reading rooms. If you need help or assistance with your work, you can ask the librarians, including help with finding journal articles for your assignments or study questions, in person at the information desks, or online with Ask a Librarian.
All in all, the State Library of NSW is a beautiful place to study and relax, and is within walking distance from the Sydney campus of Kent Institute.