Bachelor of Business (Accounting)
1. Please introduce yourself.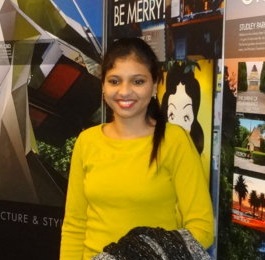 I am Sabiya Sultana. I am from India. I came to Australia to pursue my degree.
2. What were you up to before studying at Kent?
I was studying Diploma of Business before continuing my studies at Kent.
3. What did you study at Kent?
I have graduated from Kent in Bachelors of Business with specialisation in Accounting.
4. Where has life taken you since you graduated at Kent?
During my summer break at Kent, I have worked as a volunteer with Psector pvt ltd as a Junior Accountant. I have gained relevant work experience in my area. Later when I finished my studies I was offered a full-time position as an accountant in their business and moved to Darwin.
Currently, I am working as an accountant at Psector pvt ltd. It is a chain of restaurants with different locations from Melbourne, Queensland to Darwin.
I usually start my work on 9:00am and finish at 5:00pm on typical days and on weekends I work till 5:30pm. I enjoy my work as I have to give inputs to help business grow.
5. Do you believe the Kent course helped build your skillset and adequately prepared you for your current work?
Yes, I believe that Kent had laid a foundation on my career path which helps me keep going. Kent had given me all the insight I needed to keep in mind when choosing a career ahead. I have always had a great journey with Kent which later helped me in every step I choose. I admire my mentors who help me make a right decision in my life.
6. If you could give one piece of advice to someone starting at Kent, what would it be?
My personal advice to all the students starting at Kent would be please follow the path you have chosen. Try and find a volunteering position in the relevant field to gain practical knowledge along with the theoretical which later might be very beneficial.
All the best with your studies and career ahead!
Explore more student testimonials at Kent's Youtube channel